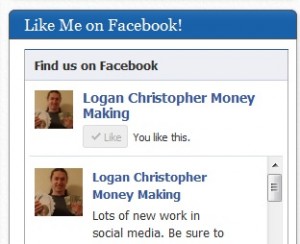 I resisted it for a long, long time…social media.
I still am not a huge fan, nor a social media expert, but I'm starting to see some results from it.
A couple years back I created a facebook account and twitter just to have them, though I never really used them. But this year I've been working to see some real results from Facebook and I want to share three important ideas and tactics I've learned along the way.
Important Social Media Point #1
This is BIG. Instead of being spread out on fifty social media sites (Pinterest, Twitter, Google Plus, Instagram, and hundreds more I can't even name) I've chosen to do just one…and do it well.
By focusing on one I can start to get some great results there. When that is doing very well, I may choose to move onto the next thing.
Now if social media is your thing, and for some people it is, like Gary Vaynerchuk, then feel free to go all out. But if you're like me I'd suggest mastering one media at a time.
Facebook is huge and a dominant player so I figured that was a good place to start.
Important Social Media Point #2
The second point is to integrate with your main media.
My websites starting being based in html and with email newsletters. Then they transferred to the blog format I use today. That's still how my business is run for the most part.
I'm not going to abandon my sites and just base what I do off Facebook. Instead I want to integrate the two.
There are many ways you can do this. From like buttons to facebook commenting.
In this video I show you how to put up a Facebook Social Widget so your blog is always connected to your facebook profile or page.
There are many other ways you can integrate as well like including a link to your social media sites in your emails and more.
Important Social Media Point #3
Now the truth is I do have twitter and regular updates go out on that, but I never touch it. How is that?
Automation!
My facebook updates go out on twitter automatically. This is actually very easy to setup within your facebook and twitter accounts.
The same can be done with most other social media too.
It can also be run the other way where your twitter goes to facebook. Some people like this option more.
Now there are those that say twitter and facebook have different languages (things like #hashtags and of course the 140 character limit on twitter change how you communicate, compared to facebook).
Once again if you want to do it all, then do them individually. But if you want to make your life easier, choose one platform and cross-publish automatically.
You'll also see every blog post go out immediately to Facebook and then from there to twitter.
What's Next?
As I mentioned I'm working a lot more with Facebook then I've mentioned right here.
There's a lot more you need to do to grow real fans like being interactive and publishing more then your automatic content.
But these three points will give you a good base.
I'm starting to test out much more, and seeing what gets results and what does not.
There's lots of incredible things you can do like targeted ads with Facebook. You do those right and you can watch you likes and even sales skyrocket.
Also with the search engines giving so much weight to social media links these days, and probably even more in the future, if I want to stay in that game I need to join this one.
I'll be sharing more on this in the future. And won't you do me a favor and like my page over in the new box if you haven't already? 🙂