Isn't it Time You Take Your Piece of the
$3 Billion+ Per Month Amazon.com Sales Machine?
Discover How to Easily Self-Publish Books to Make Money,
Gain Authority, Generate Leads and Grow Your Business with Backend Sales
Dear Friend,
Amazon is huge. You know that. I know that. Everybody knows that. They've become the most popular and largest retailer online, not just of books but of so much more.
And here's something even more amazing. Within the past year Kindle books have outsold all other physical books.
Wouldn't you like, even just a small piece of this action.
So many people dream of publishing a book. Today this dream is so ridiculously easy to achieve it's amazing that more people aren't doing it.
Let me tell you my story on how I got started with Amazon.
I had been in the info-marketing business for some time creating books and other products and selling them through my websites. I heard about people having success with Amazon so I decided to give it a try. I took a couple public domain books and threw them on Amazon through their service called Createspace.
At the end of the month I had made about $30. Not much but I moved forward with it and gradually my Amazon empire has been growing. Recently I've taken even more time to devote to Amazon as I'm seeing it begin to take off and all the different ways it can be used.
Here's a screenshot of my Createspace account for the month of July 2012: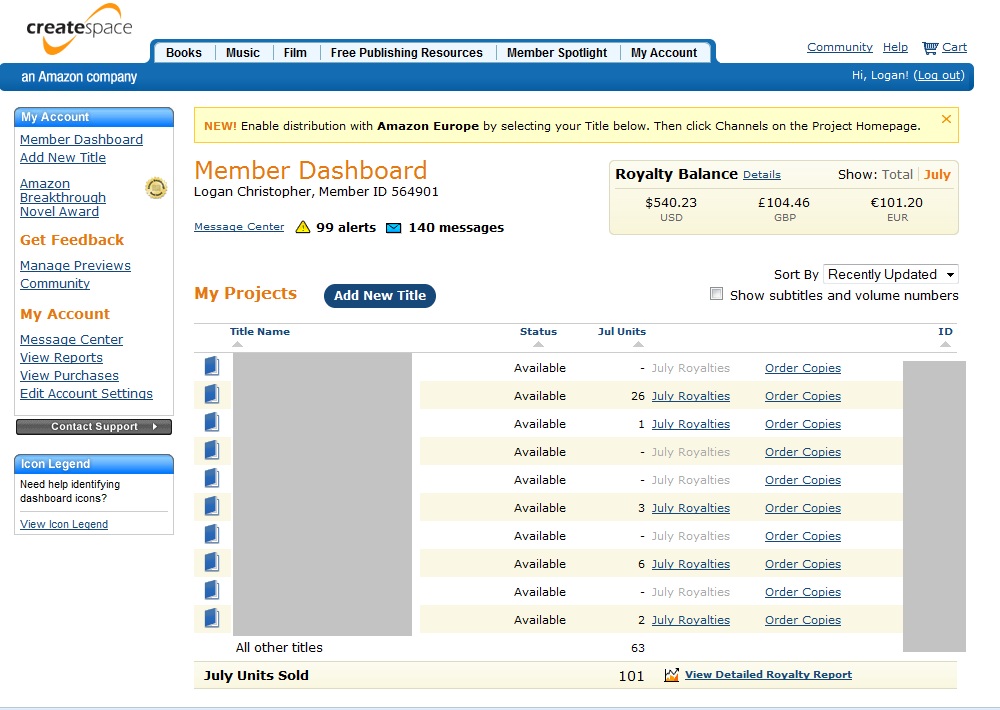 That's over $800 for the month.
Here's a screenshot of my Kindle Account: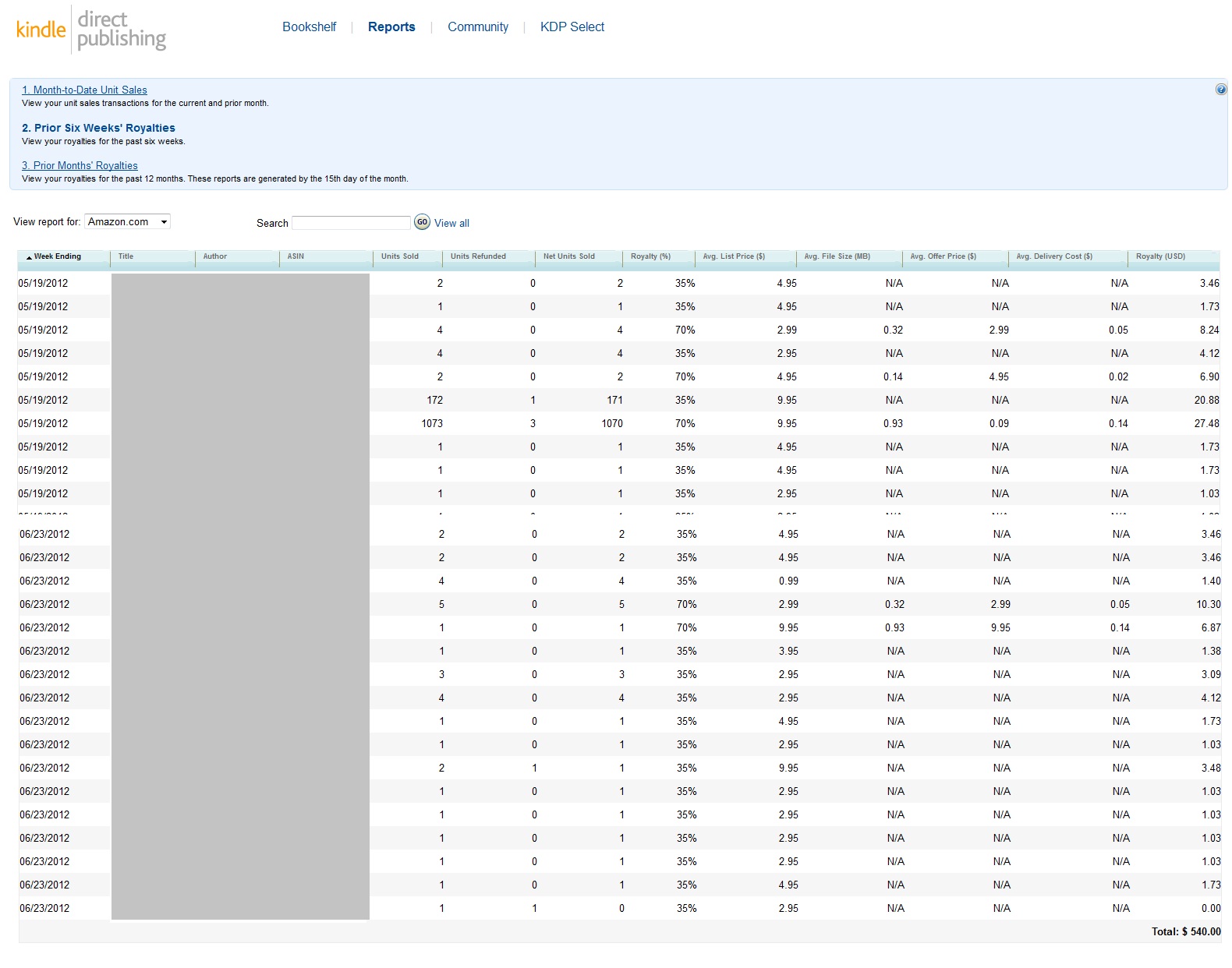 That's $540.
Right now I'm doing over $1000 per month. Truthfully that's not a whole bunch. But the good news is that that's not everything.
Most of what I've done is use public domain books that sell a couple copies per month. I've only recently begun to create books that sell a whole lot more.
If you target the right niche you can be making $1000's per day.
Here I'm making money to create new leads! Instead of paying for advertising, I get paid to create new leads and customers. Tell me, where else can you do that?
The Amazon machine markets for you. You sell the books and ebooks, getting a royality, but if you stop there you're leaving money on the table. That's why this course is about a whole lot more then just getting your books on Amazon.
If you're just starting your business…
Amazon is one of the best ways to test a market or product idea.
It's a great way to get paid to create leads.
It's one of the fastest ways you can create a real book that you can gain instant credibility and authority within your field.
It's also a place where you won't have to mess with customer service, ordering, fulfillment or anything besides collecting checks after you've created the book. If you want a 100% hands-free business this is the place to go.
If you're already in Business…
Use Amazon to open up a whole new sales channel that pays you to create leads.
Sell books on the front end to sell more on your backend, from your other products to affiliate sales (and why not both!)
Create books here and use and sell them in other channels.
Re-purpose your books and products elsewhere onto Amazon to make even more sales.

In Cashing In on the Amazon Sales Machine with Easy Book Publishing you'll be taken step-by-step through all these processes and more.
I guide you step by step in:
Creating a Createspace Account
Uploading a Book to Createspace
Creating a Kindle Account
Formatting a Book for Kindle
Uploading a Book to Kindle
How to Almost Effortlessly Create Great Looking Covers using the Cover Creator
Want something even better? Two other methods for cover creation you can use.
Are you thinking that you don't know how to create a book. That's easy. You'll learn:
If you're going to write a book use one of these two methods to make sure it gets done FAST!!!
Creating a Book Without Writing? Is it Possible? Yes! And here are Several Methods…
Creating books without being an expert at the topic.
How to use Public Domain for already Done-For-You Books.
How to use Public Domain without having any Competition and to get generate more sales and traffic.
How to Resurrect Old Books and Products with Amazon
Outsourcer Secrets for Fast and Hands-Free Creation.
And there's so much more then that. These are just a few of the other Tactics I put into this course.
The Super Simple One Page Way to Sell Your Other Books, Products, and with Affiliate Programs
How you can Plug in your Website All Over Your Book…Even on the Amazon Sales Page!
The Ninja Affiliate Redirect So They MUST Use Your Affiliate Link
Don't Make This Account Creation Mistake with Kindle
Instantly Get More Reviews for Your Book with This Additional Page
How to 10x the Money with Your Books then what You Make on Amazon
Selecting the Right Markets, Keywords with these Data Collection Tactics
Brain Dead Simple Social Media Promotions
Double Your Commissions?!? Be Sure to do this when Promoting Your Book Online
Simple Video Creation Secrets to Drive Traffic to Your Books
Generating a Huge Run of Giveaways or Sales and Reviews with an Email List
How You Can Make Even More Money then a Sale by Giving Away Your Book with the Kindle Select Fund
This Alternate Sales Channel is Full of Buyers and You Can Market Your Book Here for FREE
Download this Video Course Today
Cashing In on the Amazon Sales Machine with Easy Book Publishing is a 10+ video course that is immediately watchable and downloadable after purchase. (I say 10+ because I'll be adding even more to it.)
Right now you can get it for half price. The regular price will be $97 but today you can pick it up for only $47.

But you get even more, which makes this a simple decision to get started with…
BONUS – LIFETIME UPGRADES!!
There are new changes happening with Amazon all the time. I'm also constantly working on new experiments and tactics to gain even more success.
This means in the future I'll be creating even more videos.
I'm also taking questions. Was something in the videos not clear? Want more examples or in depth on a tactic? Just ask and I'll film another video that will be added to the course. Just write me an email or post in the comments and it will be answered as soon as possible.
And when you order Cashing In on the Amazon Sales Machine with Easy Book Publishing you'll be locked in and get it all for life.
So be sure to pick it up today. To recap:
You're getting 10+ Videos that guide you through everything from:
Setting up Accounts
Publishing physical books on Createspace
Publishing ebooks on Kindle
Finding the Right Niche and Keywords
Creating Great Looking and Selling Covers
Several Methods to Create a Book (some of which don't take much or any writing at all!)
Promotional Secrets to Drive Up Book Sales and Rankings
Backend Sales for Much More Money with Your Other Products, More Books, Affiliate Sales and Bundling
And much more
You're gonna love it. Of course, like everything I offer, if it doesn't blow you away, and you don't think it's worth every penny then just let me know and I'll refund you all your money back.
The course as it stands right now is worth far more then that price. You almost couldn't make your money back when you publish a book on Amazon. You have to work real hard to not make your money back almost instantly.
Sincerely,
Logan Christopher

P.S. FAST ACTION BONUS – For the first ten people to order I'm going to give you limited coaching by email. Let me know your ideas for publishing on Amazon after you've gone through the course and I'll let you know if they're a good idea, bad idea and any tweaks that can help make your book a winner.