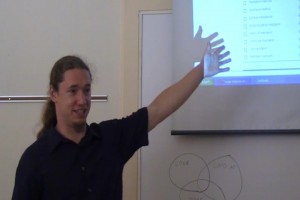 As an entrepreneur you are constantly venturing out into new waters. It can be exciting and scary at the same time. The potential to win big is there, but you may also crash and burn. This just occurred for me over the past weekend when I learned how to hold a workshop and then went out and did it.
First off let's define what a workshop is and how this differs from a seminar.
Workshops tend to be more interactive, where you don't have a speaker up on a stage doing an hour long monologue.
Workshops are meant to get work done. Exercises, follow along tutorials and various other things are done so that the attendees leave hopefully with something more tangible then a bunch of notes.
Workshops are more intimate. We've all been to seminars where they are hundreds of people in the room. Of course these serve a purpose, but in order to do much more you need to have a smaller group.
Workshops usually have a single expert. Sure, sometimes guests are brought up, or there might be a few people in charge of the show, but this is in stark contrast to the parade of speakers the standard seminar brings.
Now why would you want to hold a workshop?
You can charge people a lot of money to learn from you in a hands on experience.
It delivers tremendous value to the people there as they get to ask questions and learn in a highly interactive setting.
You can film the event and create a product out of it.
You gain credibility as people pay money and travel to come to see you.
And you can offer a workshop in virtually any field. This is because people will want to meet you if they have read and enjoyed your work online and bought products from you. Also there is no better way to learn then hands on. Your raving fans will come to see you.
Its been a goal of mine to start doing workshops and seminars. If you are a big time expert you may be invited to present at other people's events but nothing takes the place of holding your own.
If you've been thinking about doing a workshop there are three big areas you need to focus on.
1. Logistics
This involves all the details that go into the workshop. Location, time, materials, and stuff like that. If this is your first time then this can seem to be the hard part though the second is where things really matter.
Find a suitable location.
Some people have a building of their own that they can use. And if you don't all you have to do is rent someone else's for the duration of the event. This tends to be quite easy to do. If you have a huge event you'll likely use a hotel ballroom. But for smaller workshops you can get by with much less.
All I did was call up my local community center and rent a room from them. For a mere $200 I had a room capable of fitting up to 40 people for a full day. It was more than enough for what I needed.
Set the time.
Seminars and workshops are usually on and around the weekends. This is because the majority of people have this time off and open. The hardest part is to get it to where it can fit your potential attendees schedules. Of course, you won't be able to do that, so just pick a reasonable date (avoiding holidays of course) and tell them to make it open as they won't want to miss it.
Tools for the job.
As the workshop I held was on building an online business I needed a couple things. My laptop, an internet connection and a projector that could be connected to my computer. These were the essentials and I made sure, besides my laptop, that the facility could provide them.
In addition of course were tables and chairs for the attendees.
In the near future I'll be doing workshops in the strength training realm. For these I'll need different tools like barbells, kettlebells and anything else I wish to teach about. I'll also need to rent a different type of facility like a gym or martial arts studio for the job.
Video camera.
Doing a workshop is great. Filming it can make the difference in it being worth your time or not. You can then take the footage and sell it in a wide number of ways. For those reading this interested in the material of the workshop I just held, make sure to stay tuned for a future announcement.
In order to film it you need the video camera and a camera man. For big time events or for people with the money you can hire people to do the whole production. This is a great way to go and something I'll likely do in the future.
But if you're starting out you can start simply. Get a decent camera that will be able to hold all the footage, has the battery power or power adapter to last the shoot, and a solid mic to get good sound. Then you can hire your friend to be a camera man.
2. Promotion
This is were the rubber meets the road. You can't hold a workshop if you don't have people there. It's one thing to get people to part with their money for you event. It's another to get them to block out the time and travel for it.
You must overcome all this in your promotion. You need to have a great offer on what they'll learn and take away from the event in order to get them there.
A secret of people getting started is that if they can't get everyone in the room they want they'll pad it with people they know locally for a lesser price or even free. If you need to, this is a good option to make the room more full than it would have been.
3. Content
What is the workshop about? What is the material you're going to cover? How do you organize and lay it all out?
For me I did a simple mindmap on all the things I wanted to cover. This is material I knew so I had no problem just having a rough outline and then catering towards the questions that came at me. As this wasn't a seminar with a slick hour long sales pitch disguised as a content rich presentation, it didn't take as much time in preparation. The real preparation was in the years I had spent studying and applying the material I was going to cover.
What I found was something that tends to be universally true. You won't be able to cover as much as you want to. Time flies in the event. I had to rush through half of what I wanted to cover. I was trying to give the whole picture with details on each thing. The truth was every one of the six areas I covered could have been a full day workshop themselves.
Be prepared for mistakes.
Several things went wrong. You need to learn how to move past them.
In addition to the camera I was attempting to screen capture what I was doing on my computer so I could later edit them together for the videos. The screen capture software wasn't working properly. What I'll have to do is shoot the footage later and then add it in for the videos.
One of the things I wanted to do at the workshop was setup a new site that would become a money maker right there step by step. I ran into some problem with the nameservers and hosting not allowing the site to get online. Since I couldn't do that I had to improvise. I started setting up the site in a sub-directory of a different site that was already up and running and worked through it from there. Not perfect but it got the point across.
In the end it was a great learning experience. Even if I had to pay out of my pocket for the entire thing it would have been worth it as this first mostly successful attempt will be the base from which all future events are build on top of.