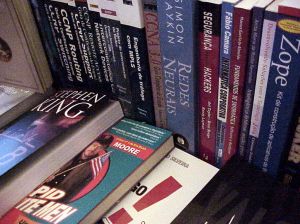 In all my work online, I spend a lot of time experimenting with new things. It's fun for me. Also, only by experimenting can you find out what works for you and what doesn't. (A lot of things don't.) One, which I learned recently was how to sell books on Amazon.
Before we get to the details of how to do it let me tell you why you should be interested in selling on Amazon. And although Amazon sells just about everything, we will focus on selling books. That's what made Amazon famous and that is I'll tell you how to create here.
The Benefits of Amazon Book Publishing
1. Amazon is a huge search engine of buyers. While many more people use Google or the other search engines, you never know what they're looking for. With a generic search it can be information or entertainment. Certainly when they search for your keywords they may not be interested (or even capable) of buying your products.
But when someone searches on Amazon they are a buyer (I would say 99% of the time). If your book is able to show up when someone searches there is a great chance they'll buy.
Also those books on Amazon can also show up in Google resulting in even more traffic and sales.
2. Self-publishing these days is easy. No longer do you need to go through the huge hassle of finding a publisher. Anyone can do it with a little work. There are several ways you can go about this.
If you have a 'real' book then you'll have lots of credibility. Even if you self-publish you can still gain much of that credibility. Amazon is probably the number one place people go to buy books these days. By having your book published there (and pointing to it from your website) you'll have even more credibility.
3. It can make you money. While the payments you get from any book generally are not that high, it can be another revenue stream. More important is to leverage that into something more whether that be speaking gigs, a home study version of the course or something else.
Here's an example of some of my efforts. This is what I've made so far in October.
Not enough to retire on by any means, but I'll take any money thrown my way. And like I said, I've only begun to experiment. With what I'm doing this can only grow.
4. The great part is at this point this is 100% hands off. (I'm not even notified of sales, I have to log in the check them.) By following the steps I'll outline here, you don't have to do a single thing after you have your book up online.
The books are published on-demand meaning no inventory to track or order ahead of time. Also the shipping is taken care of for you. While all this does mean you make less per book, I'll take it for the fact that it requires no effort. It is true passive income. It doesn't cost any money except to order a proof copy. Besides that there is no investment.
Make money, gain credibility and do no work besides the initial book writing and creation.
Now that we've covered why you want to, lets talk about how to sell books on Amazon.
Step-by-Step to Create and Sell a Book on Amazon
1. Go to CreateSpace.com, a company owned by Amazon.

2. Signup for a new account
3. Once you are signed up and logged in, click the 'Add New Title' button.
4. Through this service you can do audio and video programs. For now we focus on the books. Click on 'Paperback Book'
5. You have to fill out a number of fields now. This is all the information for you book.
– On the first page you have to fill in title and author information. Also you can get a free ISBN number here.
– One page two you select the physical properties of your book. This includes the page type, color, size and number.
– On page three you upload your book with a pdf file. You also create the cover. They have a cover creator which is easy to use and fairly well customizable. You can upload your own cover but it must fit their dimensions exactly. I played hell trying to get one of my covers to get accepted. In the end I gave up and have stuck with the cover creator since then.
– On page 4 you go over the sales channel management. You can have your book show up just on Amazon. You can signup for wider distribution, even bookstores. You also get to set your price and will see how much you make off of each copy sold.
6. Once you have all this set they take about 24 hours to review your files and make sure everything is in order. If something is amiss they email you and you get to correct it before resubmitting it again.
7. When you have been accepted you need to order a proof copy. They print this up and ship it to you at a small charge. After reviewing the proof you go into your account and approve it (or make changes if necessary).
8. Launch your book ready to go. In a few days it'll start showing up in Amazon and you call link to it and sell it.
This wraps up how to sell books on Amazon with CreateSpace. While I skimmed over the steps this is really as simple as it is. Just follow along and you too can have your book(s) selling. All the publishing barriers are broken down. You won't get a big advance from a publishing company but you can begin to sell your book, simply and easily.
There is much more that goes into getting your book sold more and what to do after you have your book published. Stick around for more tips on what comes next.
If you follow these steps, plan to in the near future, or have experience with self-publishing, I'd love to hear from you comment below.