We are in the information age. At the reach of your fingertips is worldwide access to information on any topic you desire. This is a time unlike any other in history.
And this can be both a benefit and a curse.
With so much information, it is easy to fall into overwhelm. Or get paralyzed, never taking any action, because you stay in research mode. But this potential dark side of information access is manageable, though not the topic of this report.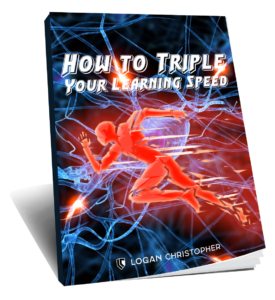 Assuming you can manage that well, that leaves the upside even brighter. We can reap the benefits of having so much available. And when you add in the methods covered in these pages they'll help you to accelerate your learning even more.
It is through massive learning that I have built my business, become strong and healthy, and developed a wide range of skills. Learning is the foundation on which on my success is built. And if you'd like to be successful, whatever that means to you, you'll need to learn some things along the way.
As the saying goes, "School is never out for the pro." Let's just hope that your schooling didn't beat the love of learning out of you. The process can be fun, rewarding, and as you'll come to find, it can be done a lot more efficiently than what the average person does.
Even when you cut away the un-essentials, you may realize you still have a full plate with all that you'd like to learn and act upon.
This special report is about accelerating the rate at which that information enters your mind. The good news is that with some skills, some patience and some cool technologies you can do this with books, audios and videos; all the main means by which people learn.
So begins the introduction to this quick special report. If you'd like all the details, including the many technologies that allow this to happen, signup on the sidebar to the right or down below.