I read lots of books. When that happens you often come across books that leave you thinking "I wish I had read that earlier." Or even a stronger feeling of "WHY WAS I NOT TOLD ABOUT THIS SOONER?!?"
Predictable Success by Les McKeown was such a book for me. (If that name looks familiar, I mentioned him in the previous post, talking about his second book.)
A big thank you to Michael Danner, CMO of DrAxe.com, for mentioning this book while speaking on stage at Ezra Firestone's Blue Ribbon Mastermind.
In this book, Les describes the life-cycle of any business, and their movement through seven stages.
Businesses must move through these stages in order, except that they can go backwards too, and most businesses don't make their way through all seven.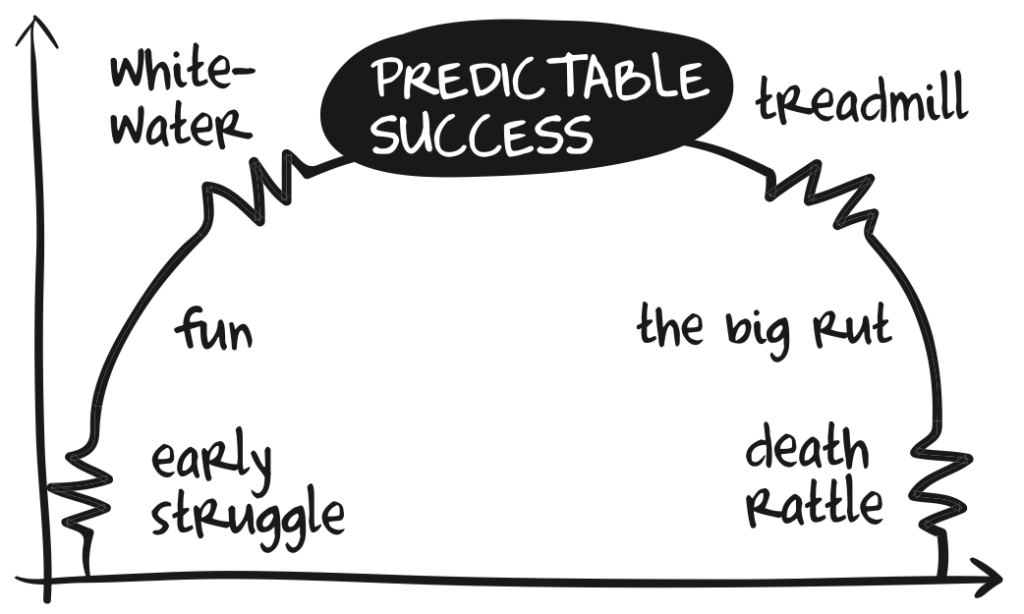 I'll briefly describe each one of these stages here:
Early Struggle – The start-up phase where the business seeks to make sales and cash. To go from idea to proof of concept in the marketplace. Many businesses never get past this point.
Fun – Like the name implies this stage is a lot of fun. You're making sales. You're meeting the demands of the market place. There's a flurry of activity and the business can pivot on a dime. Often just a few people are involved.
White Water – The business grows to the point where it begins to get chaotic. More people, more operations. It becomes a battle of constantly fighting fires. This is where systems must come in.
Predictable Success – The best stage to be at. As the title implies it is both successful and you can predict it will continue to be. Not based off of people working 20 hour days, but by different people properly and predictably fulfilling their roles. This means the business sets goals, and hits them. Of course, there are still fires to put out, but things run smoothly based on systems and processes, while the business continues to grow.
Treadmill – Here, the business becomes over reliant on those same processes and loses that entrepreneurial spark. In fact, for many businesses this is the stage when the founders leave and the environment becomes much more corporate.
The Big Rut – This is a continuation of the above, except at this stage it has gone on too long, so that the business cannot recover, not by itself.
Death Rattle – There is usually a brief flurry of activity before the end. Perhaps the business is acquired, or tries to be so. Perhaps there is an attempt at restructuring or bankruptcy. Many just fade away.
How Do My Businesses Stack Up?
The reason I loved this book so much is that I can see in my career how I've moved through some of these earlier stages.
Lost Empire Herbs is the best example.
It's startup involved being an outgrowth of Legendary Strength. A new website, finding a couple suppliers, and then selling some herbs from the kitchen table. It couldn't have started on less of a shoestring. It went on like this for almost two years before we hit our stride.
The fun stage can really be marked as when we got our first office, officially formed a new LLC for the business. Shortly after this we got our first employees. It seemed like sales were growing by at least 20% each month, sometimes more.
Unfortunately, the Fun didn't last too long. A few office moves, some changes in management and we landed in Whitewater. I'm very intimate with this stage because we've been living it the past few years now.
(The feeling of "Why was I not told about this sooner?!?" is because if I had this as a roadmap I believe we could have gotten to the next stage much faster.)
Legendary Strength itself has never moved past the Fun stage. The typical internet business based on cash flow and lifestyle actually aims only to get to this stage and stay here. It is purposefully kept simple to be a so-called lifestyle business. Nowadays I see this and aim to keep it that way. Previously, I didn't know the difference.
Thus, with Lost Empire I was completely unprepared for the new things I had to learn with a "real business." Thankfully, I'm good at learning, and beyond books, have lots of smart people that have done these sorts of things to learn from.
And we had a lot to learn. Here were a few of the activities of the past couple years:
Bookkeeping and how good finances work.
How to systematize and SOP the business.
Hiring and onboarding employees.
HR stuff such as insurance, payroll, firing, etc.
How to run more complex operations
Standardizing things so that it's not all different
Good project management
And plenty more
I feel like right now we are just emerging from White Water into Predictable Success. It's a good feeling. In fact, I feel so strongly about it that it has become Lost Empire's theme for Q4 that just began.
Before I read this book, I was engaged in many of the things needed to do so. But it would have been nice to know about whitewater before I even got in it. Oh well, at least I'll know this for next time…