Before we dive into the final bunch of books I read in 2017, I received this question from James that I'd like to cover:
"How did you manage to read that many books 

in one year

 and able to soak them all in?"
This is an excellent question, with multiple aspects to it.
First of all, reading is a habit for me. There are times when I get away from it, but I regularly read each day.
Secondly, I read quickly. I covered speedreading as one of the tools I use to learn fast here. 
As for my process, after I finish working for the day, I like to relax by reading. Although I'm underlining books, and sometimes taking notes, it's much more passive than active to me, hence I find it a relaxing activity.
At any time I am typically reading 5-8 books, usually on different topics (like one business book, one health book, one fiction book, etc.). What I like to do, though this doesn't happen every day, is to read one chapter of each. This keeps my interest up when otherwise just reading through one book, if it's not exciting, might be a drag.
That being said, when I do find those fascinating books I do have times where I set aside all other books and purely focus on one.
On Sundays, which right now is usually my only day I take completely off of work, I spend more time reading than usual. I often aim to finish at least one book each week and would take the time on a Sunday to finish off one of my 5 to 8 I am reading.
As mentioned, I underline and take notes while reading. This helps to "soak it in." And if I want more soaking I will review all my underlines and notes after finishing the book, and then something like a week to a month later. (This helps lock it in…which to be honest I don't do as much as I'd like.)
As I said, reading is a habit for me. And it's been a habit since back in high school. I've never stopped reading (as so many people do) so I've continually gotten better at doing it, by actually working to refine my process.
Guess what? Writing about it here has strengthened my process even more!
This is the last post covering the breakdown, by subject matter, of the 72 books I read last year. Previous articles here – Part 1 – Part 2 – Part 3.
Books about Writing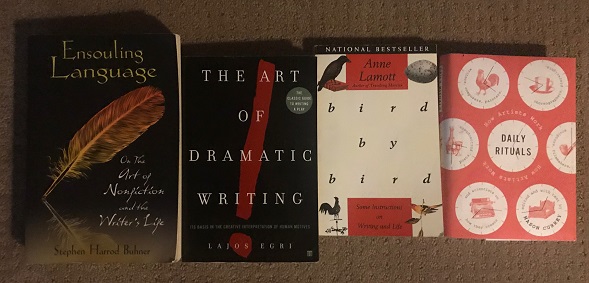 Ensouling Language by Stephen Harrod Buhner
Daily Rituals by Mason Currey
Bird by Bird by Anne Lamott
The Art of Dramatic Writing by Lajos Egri
As I worked on my biggest book project ever, Powered By Nature, I felt like I was fully stepping into being an author. Yes, I had written books before, but I felt this was more as an info-publisher, for business, rather than as a real author. Everything I had done up to this point was self-published, with the exception of Mental Muscle, published by Dragondoor.
So, as I stepped more into being an author, I wanted to learn more about writing. As mentioned, I love Buhner's work, reading three of his books this year. Rather than health and nature, in Ensouling Language he takes the same depth to the topic of writing.
All of the other three books I read about in Tools of Titans, recommended by one or more people. Very different, but each is good in its own way.
I thought Daily Rituals was fascinating as it looked at the creative habits of writers, artists and more of many famous people from history up to the present. Very interesting to see the differences, and also to help pin-point what works well for yourself.
Ancient Wisdom Books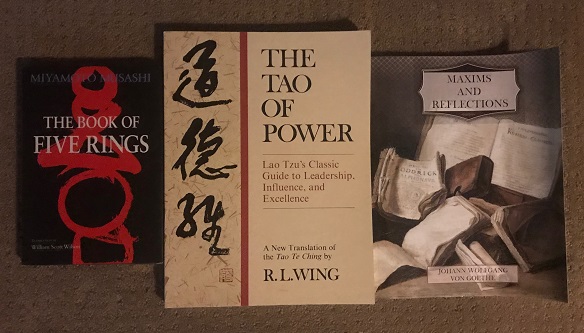 The Tao of Power by Lao Tzu and R.L. Wing
The Book of Five Rings by Miyamoto Musashi
Maxims and Reflections by Johann Wolfgang von Goethe
Perry Marshall (author of Evolution 2.0 which I read this year) makes the point of reading books made before the printing press was invented. In order for those works to be preserved manual copying needed to be done. Lao Tzu and Musashi fit this. Goethe does not, though his writings certainly are older than every other book I read so I added it to this category.
Biography Books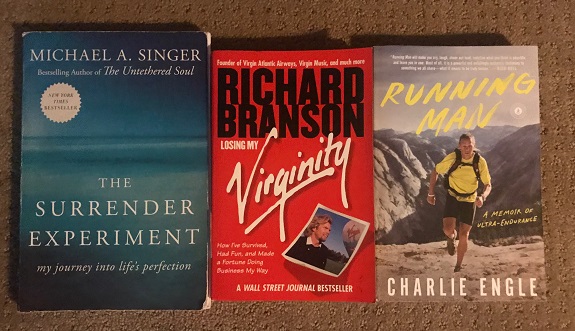 Let My People Go Surfing by Yvon Chouinard
Losing My Virginity by Richard Branson
The Surrender Experiment by Michael A. Singer
Running Man by Charlie Engle
These books could have been added to other categories, such as business for Chouinard and Branson. Then self-help or business for Singer, as there are elements of both. Plus, I did put his other book The Untethered Soul in the former category.
Running Man, I'm not sure where I would put. There's a fitness element, but largely that is not what the book is about. I met Charlie at an even and actually just interviewed him to dive deeper into Mental Toughness, which a man who ran across the Sahara desert certainly has! That will be released soon at Legendary Strength.
So, in this and the previous article I've covered each of these categories and the books in it.
Fiction (5 books)
Nature (9 books)
Shamanism (2 books)
Science/History (10 books)
Self-Help (8 books)
Business (13 books)
Health (9 books)
Biography (4 books)
Ancient Wisdom (3 books)
Writing (4 books)
Finances (5 books)
There is one last article to come, which will share a couple other ways I looked at these books, and my reading plans for 2018.